Waking Up: Cover Art Contest
Month-long art contest with contestants from around the world, using only AI generated art.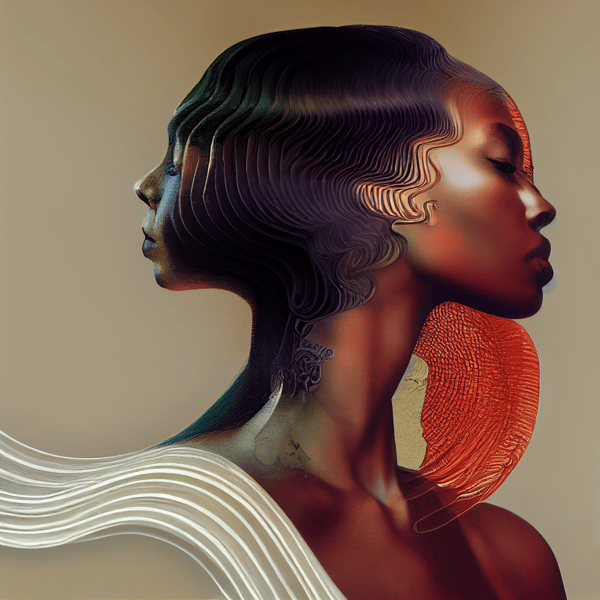 Winner: Joanna Gonzalez
Back in July, in a fit of COVID fever, I decided to organize an online art contest to come up with the cover art for Waking Up, and since the relationship between human and machine is so central to the story, I figured I'd make it AI only — you're only allowed to submit works where AI made the final decision for every pixel.
Out of 60-some applicants, I chose seven. I paid them a stipend for their time and to reimburse AI tool subscription expenses. I gave them a month and chewed their ear off about the story, really I can be longwinded when allowed. We checked in weekly where I asked for detailed feedback on the process — with mixed success in availability I have to say. I suppose we're all adults with other commitments. Anyway, I got five submissions back, and loads of great write up on different perspectives and techniques.
In the end, Joanna's submission won. It was incredibly difficult to choose a single winner, as each contestant's journey took them in a completely different direction — not to mention being able to appreciate each unique perspective. There was an element of relevance to the story in the scoring, as well as aesthetic fit and sense of awe… but ultimately I went with the one that I thought would attract the most prospective listeners and not confound their expectations.
More details below:
On her approach
I approached the concept by reading the Waking Up script and also referred back to the producer's summary write up. The script allowed me to gain a more detailed and nuanced picture of the plot and character and the producer's summary gave me a more thematic and bird's-eye view of what Waking Up wanted to explore at its core. I retrieved insights from the summary like visualizing consciousness as a vibration, described in the Tibetan Book of the Dead, which I wouldn't have quite gotten from the script alone. It ended up being a central theme I focused on for the design visuals and word phrasing I incorporated in the prompts as I moved forward with the concept.
On her Process
There were several times I was mostly happy with a design but would have liked one or two elements altered, and although there are workarounds for this, the results weren't quite the same, which still produced very interesting and curious images but at times went outside the scope of what I envisioned. There was a particular prompt I started getting the best results with so I continued generating multiple versions, remastering them, upscaling them, and just continuing a queue of chains that eventually evolved into the final image. I also ended up simplifying my prompts instead of crowding them with too many keywords and commands. I started to realize, at least in my experience, that the more focused, concise, and clear the details were in the prompts, the more compelling the results were.
On AI Art
I would definitely continue using AI art tools as they continue to take shape for my future projects and also to conceptualize creative directions and ideas. I learned how different of a medium these AI tools are for the imagination and the lessons in language they unexpectedly provided ranging from how to more thoughtfully construct a prompt with phrasing to having a more focused understanding when describing art movements, styling, texture, lighting, perspective, context, and details that may be overlooked when creating a composition. But even with a seemingly comprehensible arsenal of keywords, the liberties the tools take are unexpected and provide an element of surprise.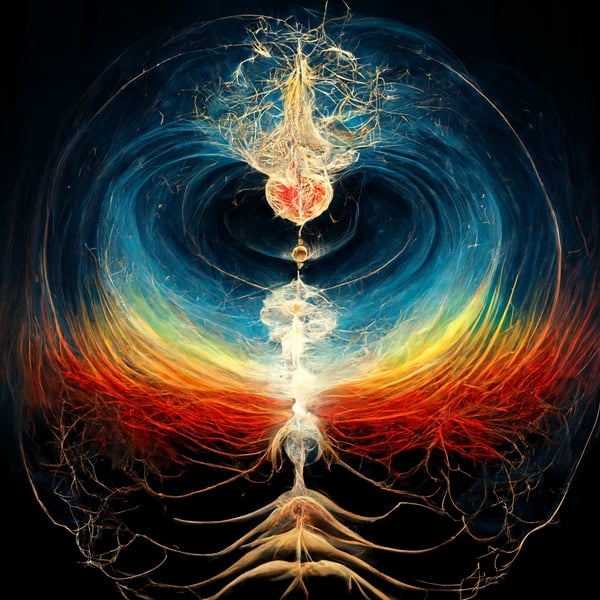 Delta Abbott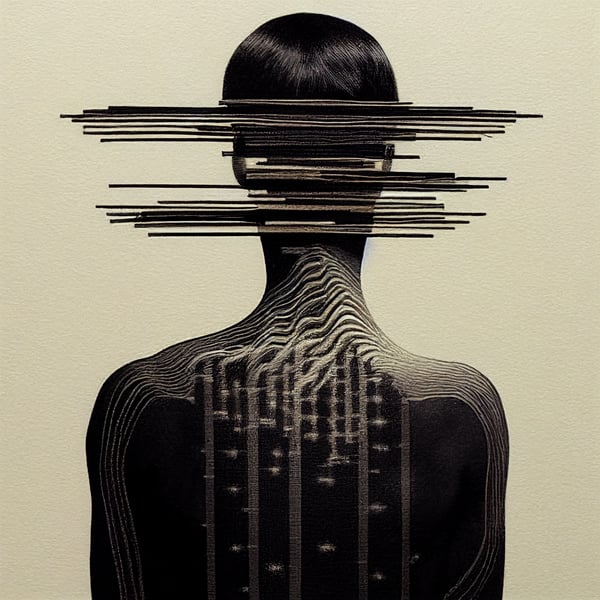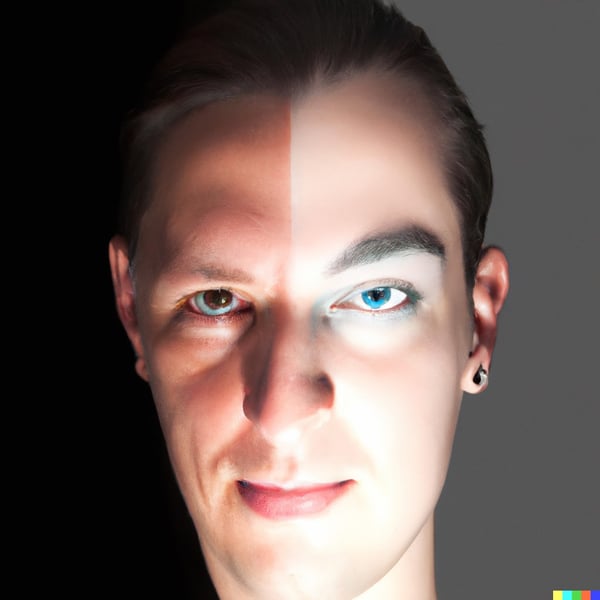 Announcement made July 2022:
Use Midjourney / DALL-E2 to create cover art for a sci fi podcast.
Express your personal style through AI imagery. Explore and share techniques and insight into an emerging graphic technology.
Applications Open: Aug 1 2022 – Sept 1 2022
Contest: Sept 7 2022 – Oct 7 2022
Winner Announced: Oct 20 2022
All selected contestants will be celebrated and compensated ($100 + AI membership costs),
but only one will be chosen.
The winner will receive $500.
For more context on this…
Will AI Kill The Graphic Design Industry (for Humans)?
July 23, 2022 — With DALL-E and all the truly remarkable breakthroughs in image generation in the past few years, it's easy to get Black Mirror vibes. I certainly do. An entire industry of people out of work. A lot of people I know would be affected in some way if an advertiser could just type "football star posing with a Pepsi can" and get a flawless result.
I keep coming around to the old analogy: "well people thought the camera was the end of painting." Maybe tools like DALL-E2 or Midjourney are just that — tools. Give Michelangelo's tools to someone like me… and you won't get anything close to The Pietà.
Further, if "football star posing with a Pepsi can" really becomes that easy to generate, the image loses its potency. Artists and their patrons are going to have to get more creative to make something that stands out. Then of course there's the matter of looking like AI. AI art is already a genre. Do you like it? Do you think anything seen so far in the world of AI Art is anything more than a curiosity? Has AI art moved you? Do you think it can?
It led me to an idea —
Contest: Design the Waking Up cover art using Mid-journey or DALL-E 2
Timeline:
Aug 10th, 2022: Entries to Compete Open
Sept 1st: Entries Close
Sept 7: Contestants selected, contest begins!
Oct 7: Pencils down, submissions due.
Oct 20: Winners announced and paid!
Rules:
I select a small group of applicants to participate in the contest. I'm looking for a wide variety of backgrounds and experience levels so everyone is encouraged to participate.
Once chosen, I'll send you a summary of the story, the major themes, concepts, musical notes, vibe, etc. You'll also be able to ask me any questions, meet with me over zoom, whatever you need to really understand the project.
Sign up for

Midjourney

and

DALL-E2. As of August 1st DALL-E2 is still letting people in via wait list, and Midjourney's discord is still letting people join without limit.
You then have a month to learn how to use Midjourney/DALL-E2. As a contestant, I'll cover your subscription expense if you don't already have one (I'll venmo you $30). The create-an-account-and-start-typing part is easy, but take some time to test the edges of the machine.

Do you have more success with short prompts or long ones?
What makes other folks' prompts seem to work or not work?
How does specificity, idiom, or metaphor impact the success of the render?
See if there are others online who are sharing any insight.

I'd like for you to take notes or otherwise reflect on what seems to work or not work, as well as other thoughts you have while working with the tool. I don't want to provide a list of sample thoughts here because I don't want to color yours. I'm just curious what a visually oriented person who likes to make art might think of something that does this much of the work for them.
Submit your cover art. Submit it in the highest resolution you can. Square dimensions. Lossless format if possible (or whatever the machine spits out). Things to consider: It will be seen primarily as the cover art in podcast apps like Apple Podcast or Spotify. So it'll have to work well in the smaller format. Anyway I'll send you more details on this when the time comes.
If I choose your submission, you win!
Compensation:
I'll cover your AI membership expenses for the month. That'll be $30 for the standard Midjourney membership, and whatever the

DALLE2 price for the month ends up being.
To help offset the cost of your time working on this during the month, I'll also provide a $100 research stipend to the people selected to compete.
And of course…
Winner / Prize:
The winner gets $500 and is featured on the Spacetime Diaries newsletter!
Frequently Asked Questions
"Umm what is DALL-E2 and Mid-Journey, and what's the difference?" This might clear things up.
"I thought AI art was a goofy jumbly mess, no more than a curiosity?" As you can see here, Midjourney has the capability to produce results with practical applications.
"I bet I could come up with the cover art in five minutes with Midjourney." I bet you could, too. I did. And it was ok. It looked like what you'd expect. But I think, give the right person a month of experimentation, they'll come up with something incredible.
"Can I modify the image after the AI render to make touch ups or edits?" No. You can only submit whatever you receive from Midjourney or DALLE-2.